THE BEE STORE
The Bee Store was created out of a necessity for local beekeepers to be able to come to one spot and see the supplies before they buy. As with anything great, it has become so much more than just a beekeeping supply store.
We have grown and with that, so has our mission. Not only do we provide quality beekeeping supplies, but we also are continuing beekeeping education. From our classes where we cover the introduction to beekeeping for those just thinking if it is the right decision for them to the in-depth parts of setting up a hive and prepping for anything that can happen to it. We are striving to grow the best beekeepers to create a thriving honey bee population for generations to come.
We want to be your resource when it comes to anything dealing with bees. From our staff members that have grown up around beekeepers and are currently beekeeping to our classes that give you the tools and knowledge to grow your own hives, we have the expertise to get you there.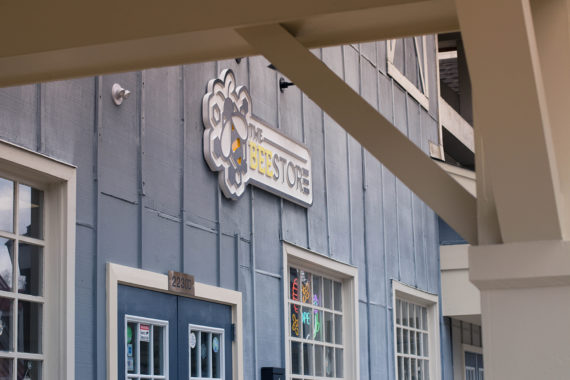 The Bee Store is located in the Tackett's Mill Shopping Center facing the lake side!
OUR MISSION
We value what any shopper values; quality, convenience, and customer service.  With those things in mind, we started Sweet Sophia LLC. After about 4 years, we expanded our operation to The Bee Store.   We are now your one-stop shop for all things "bee" with convenient hours for busy commuters, unparalleled customer service, and the finest quality products made either in-house or from other local small businesses.
We weren't always beekeepers, proprietors, and makers of such fine things.  Like most in the northern Virginia region, we were careerists, commuters, and customers that struggled with time to get to the store only to fight with long lines and sketchy service.  When it came to beekeeping supplies, forget about it. There was just no place practical to look at or ask questions about beekeeping supplies and equipment.
Beekeeping is a popular hobby, and we quickly realized that a few too many honeybee enthusiasts were diving into unknown waters with no training.  This can be a frustrating and costly mistake, so we now offer a full series of beekeeping classes designed, conveniently designed for the busy commuter.
Whether you are a beekeeper, a honeybee enthusiast, or simply someone looking for a unique and satisfying shopping experience, we would love to welcome you in our shop.