The Holiday Season is Here!
Well friends, thanks to your support and patronage, Sweet Sophia is off to a great start!  Business has been pretty steady, and the excellent product reviews are validating all those months of testing our formulas.  We also published the first in a series of books about The Amazing Adventures of Sweet Sophia – a little girl who travels through time, meets awesome historical figures, learns about history, and shares information about the awesomeness of honey bees. In her first adventure, Sweet Sophia travels to Mt. Vernon and meets George and Martha Washington.  George was a beekeeper if you didn't know!  In her next adventure, Sweet Sophia will meet Florence Nightingale; look for it in the coming months!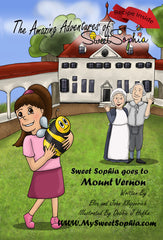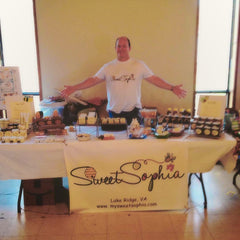 We attended our first craft fair earlier this month at St Elizabeth Ann Seton Catholic Church, and what a fun experience that was.  We had a chance to set up our display, answer questions about our products, and talk about bees.  We are looking forward to hitting the craft fair circuit next spring!
We have introduced some new products in the past month as well.  One of which is our infused honeys! Many have asked, "what do you do with this?" particularly when talking about our ginger or hot chili infusions.  So, in the course of discovery, we made up this very simple recipe which turned out incredible that was not too hot and not too sweet.  It was just perfect (your results may vary):
Sweet Sophia Spicy Honey Chicken
Coat some chicken breasts with extra virgin olive oil, salt, pepper, and ground rosemary.
Bake them at 375 for about 20 minutes (use a thermometer and bake until about 130 deg)
Pull your chicken out and drizzle with Sweet Sophia Chili Infused Wildflower Honey
Put the chicken back in the oven for another 10 minutes or so (always check the temp)
Other new products include:
Cracked Skin Balm – made with all natural ingredients, we tested this on some old school and cracked soldier feet, and it really works!
Vapor Rubs – all natural vapor rubs in adult and child-safe formulas.  We have tested the child-safe formula on our own Sweet Sophia, and it works well.  The difference in formulas is the essential oils used.
Cold Syrup – we created this all natural cold syrup from echinacea, ginger, cinnamon, and of course, honey! It won't cure the flu, but it does a great job with early cold symptoms….and it tastes really good!!
Momma Bee Belly Butter – the perfect match for a rapidly expanding momma belly!  Made with a combination of all natural butters and essential oils, this stuff will reduce itching and stretch marks and keep your skin soft and elastic.  It will almost certainly make your baby smarter too (but testing is not complete).
Baby Bee Butt Cream – This (almost) all natural and non-toxic cream is perfect for sore baby bottoms.  The natural butters, oils, and beeswax will hold moisture, while the (almost all natural) zinc oxide and aloe vera treat the itching and irritation common to diaper rash.  100% natural essential oils have anti-fungal and anti-inflammatory properties that will help heal that little butt quickly.
Soaps – we have a few new soap variants:  California Dreamin (a wonderful smelling soap with calendula blossoms inside), Lavender Guest Soap (with real lavender), and we just made our newest pine-fresh soap properly called 'Pineland.'
As we approach the hectic shopping season, we encourage you to support small and local businesses in your communities.  In an effort to make things a little easier for you, we will offer 15% off all orders until Christmas using the coupon code Sweet15 at checkout.
Remember, shop early!!  The closer we get to Christmas, the longer it takes to ship!  Thank you all for your support.  As always, please tell your friends and family about us, and if you love our products, write a review on our website (if you don't love our products, please let us know how to improve)!
John & Elsa (and Sweet Sophia of course!)