Happy Birthday America!!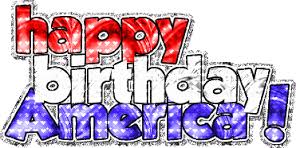 What a crazy summer it's been so far!  After a solid month of rain, the bees were chompin at the bit to get out.  The warmer weather prompted them to expand rapidly in the hives, and there were swarms aplenty.  Thankfully, a lot of people called their local beekeepers rather than pest control to deal with the swarms.  Swarming is completely natural, and if you happen to see a big clump of bees in a tree, don't panic.  Queens are about twice as big as normal workers but have the same size wings, so they sort of island hop from tree to fence to barn until they get to a new home.  They are very gentle while in a big clump, so don't worry!  
Here is a picture of my own bees in the process of replacing their queen.  The long cells in this picture are baby queens!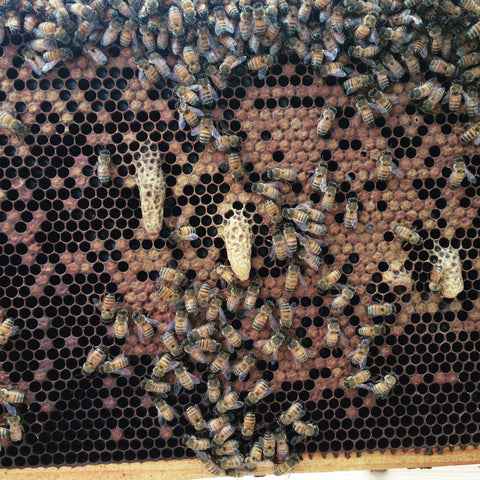 In the coming weeks of sun and heat, don't forget to protect your loved ones and yourself with our 100% natural 

BUG BALM 

and 

SUN SCREEN

!
We have been busy!
Thanks to you all, we have been very busy!  Besides prepping for a huge SpringFest in Mid Jun, we have also been quite active in expanding our business into more retail locations.  The June Springfest at Stonebridge Shopping Center in Woodbridge was awesome – hottest day of the year, but still awesome.  We met hundreds of new people, got to talk about our products, and most importantly, we got to talk a lot about bees.  It was great to hear how many folks are interested in keeping bees.  I say you should! Bees are great, even if they do tend to sting when bothered.
Here is a better shot that shows the amazing table covers that Elsa made for our display tables.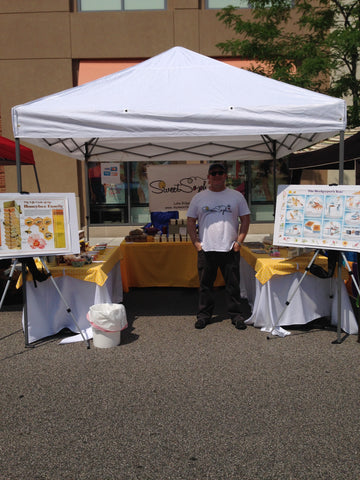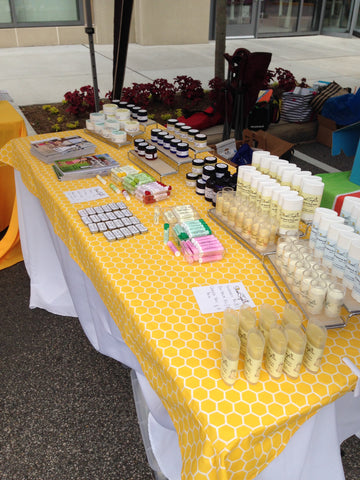 New products
Healing Balm with Emu Oil –  I mentioned this in our last update, but I wanted to show my own test results.  This stuff is just amazing.  We have had several customers tell us that they have tried everything for eczema or dry skin, and this is the only thing that works.   The picture on the left is a bad cut on my hand that probably could have used a couple of stitches.  The picture on the right was 6 weeks later after applying our Emu Oil Healing Balm daily.  Not bad!
Neverland Soap – I made this soap especially for Sophia's sensitive skin. This soap is 40% olive oil and contains Tussah Silk for a luxurious softness just perfect for the most sensitive parts! The silk makes the lather smooth and creamy. This is the perfect soap for soft and dry skin.
Key West Soap – This soap is really a beautiful soap. Keeping with our location themes, this one reminded me of a beautiful sunset. Since there are few greater places to see the sunset than Mallory Square in Key West, it was a natural! This has a trace of charcoal giving it a bit of character and contour.
Middle Earth Soap – So, there is a tree that grows on the island of Socotra off the coast of Yemen called the Dragon Blood tree. The oil from this tree is (of course) a deep red and has an amazing scent. I had to make soap with it. The oil played all sorts of games with my intended colors, but it came out pretty cool, and with the scent of dragon's blood…we had to name it Middle Earth!
While not ready for prime time, Sweet Sophia's Beardo Balm is in the second round of testing. Six brave souls from across the country are providing me excellent feedback to fine-tune this stuff. I expect it to be ready in the coming weeks.
If you would like to be a tester for our products, just let us know!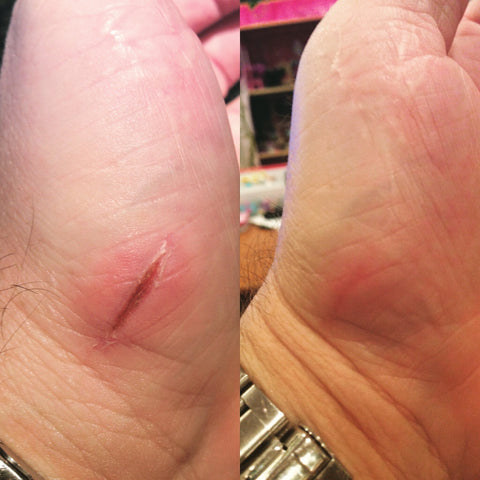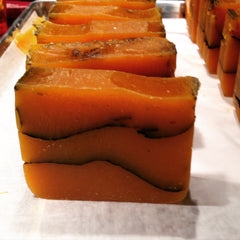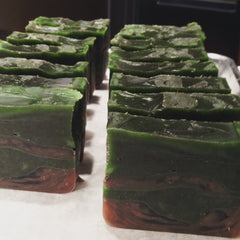 Coming soon
All Natural Deodorant
Beard products
Muscle and Joint Balm
Honey sweetened jellies
An all new Amazing Adventure of Sweet Sophia! This time, she visits Cleopatra, who was known to bathe in milk and honey!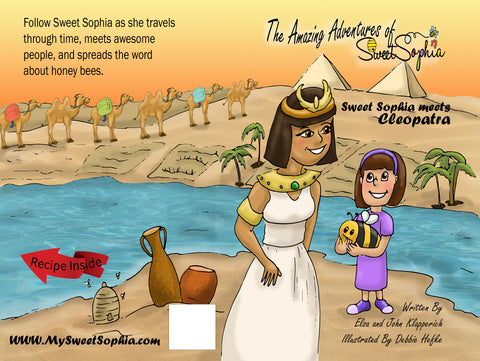 For being such awesome customers, we use the coupon code SWEETBEE when checking out of your next order and save 10% or your entire order!
Thank you all!
John, Elsa, and Sweet Sophia